Benefits Of The Replenology System
Proven to be up to 4X more effective in women and up to 3X more effective in men compared to the leading hair loss product by scientific review

Targets 21 known causes of hair loss including stem cell activation

Replenology's 4 components work together day and night to synergistically create the perfect environment to grow a healthy head of hair

EWG Verified, All Natural, Vegan, Drug-free, Gluten-free and Non-GMO
Replenology Hair Growth System
100% Guarantee
We want you happy about your choice to use Replenology. We're so sure that Replenology is right for you, if at any time you are unhappy with the results, you can cancel and receive a refund for any unopened bottles.
See Terms and Conditions
Results
Female, 56 years old

Length of treatment: 7 months

Before

After

Male, 52 years old

Length of treatment: 6 months

Before

After

Female, 58 years old

Length of treatment: 12 months

Before

After

Male, 44 years old

Length of treatment: 4 months

Before

After

Female, 55 years old

Length of treatment: 4 months

Before

After

Male, 20 years old

Length of treatment: 2 months

Before

After
I have been using Replenology Hair products for the last six months. My hair is beginning to grow and when I blow dry my hair I can see new hairs (about 3 inches) all over my head! It takes time (be patient) but well worth the investment! I didn't lose my hair overnight and I don't expect it to come back overnight either!
Sarah S.
Age: 60 years old
Length of treatment: 6 months
I started the Replenology regimen for my thinned out hair a little over two months ago. My hairline had thinned out, and even more so the hair behind it. There were a few totally bare patches of scalp due to past bouts with chronic dermatitis. Now, in my ninth week using these products, I can see exciting changes. I had read that the results are cumulative and usually take about 4-8 months to see any improvements, but it seems that I am getting a very fast reaction.
Roy D.
Age: 64 years old
Length of treatment: 2 months
I think my experience with Replenology has been nothing short of incredible. To be brutally honest I wasn't in a good state mentally when I was having troubles with my hair. I didn't go out at all and, felt I couldn't be who I truly was socially. However, this product has allowed me to see results that I didn't think were imaginable. I started seeing gradual growth all around my scalp, with new baby hairs growing at the top and sides of my forehead. Although my time with this product isn't complete, I am starting to see myself again. Furthermore, it has pushed me to stop drinking any alcohol and continue to work out and eat right. As a result this product has changed me both mentally and physically.
Mike K.
Age: 20 years old
Length of treatment: 4 months
I started using Replenology in June 2018 when my hair became noticeably thin and really started to turn gray. Since then my hair is much fuller and the black color is coming back!! It's very important for me since I'm on stage most of the time and being a "public person" it does make a big difference. Replenology is really turning back the clock – it's beginning to look like ME 20 years ago!!!
Julian M.
Age: 61 years old
Length of treatment: 6 months
I have used the Replenology product including – a natural daily vitamin – for about 9 months. Not only is my hair conspicuously thicker and in addition I have noticed less grey in my hair but to boot, my overall feeling of clear thinking and focus has exponentially improved. Finally, the level of responsiveness and service that I have experienced in working with Replenology is nothing short of world class. Highly recommended. Replenology should, in my opinion, become a multi-billion dollar company in the years ahead! Great job!
Anthony G.
Age: 56 years old
Length of treatment: 9 months
This is an amazing product for anyone suffering from receding/thinning hair. I'm a 24 year old lad whose been having issues with hair loss and recession for nearly 4 years. I've been using Replenology for about 7 months now and the results have been astonishing. Within the first 2-3 days the flaking on my scalp stopped. However, it was not until 3-4 months later that I started noticing new hair. Now, 7 months into using this product I've noticed significant hair growth as well as thicker and fuller looking hair. BTW, even if you do not suffer from hair loss, this is a great natural shampoo/conditioner to use! It's free of any harmful chemicals that can damage the scalp or hair. I've used medicated hair products for the past 10 years as I suffer from dry and flakey skin. What I love about Replenology is that it took care of my dandruff without making my hair looking thinner, which wasn't the case before. I'd recommend this product for anyone suffering from receding hair/hair loss or for anyone who simply wants a premium natural shampoo/conditioner.
Lee G.
Age: 24 years old
Length of treatment: 7 months
Just wanted to let you know: we're not quite 4 weeks in, and my barber said my hole is smaller and my scalp looks healthier from a blood-flow perspective. The hairs themselves are thicker and healthier, and better able to hide the hole that's there!
Raj P.
Age: 30 years old
Length of treatment: 1 month
I was so happy to find an all-natural product that treats hair loss. I had been losing my hair for the past five years. Dermatologists prescribed strong pharmaceuticals that had negative side-effects. I have been utilizing the Replenology shampoo, conditioner, night topical nutriment and vitamin supplement for about 9 months. My hair-loss has ceased, my hair appears thicker, and my scalp is no longer inflamed. In addition, the scents of the Replenology products are so pleasant and I usually do not like cosmetic fragrances. I am so grateful that I discovered this hair treatment system. Replenology has been a relief for my scalp and my mind.
Kay B.
Age: 66 years old
Length of treatment: 9 months
My hair looks completely different now. It is much denser and thicker. I can easily see my improved front hair line, which was very thin before. I also have to admit there is quite a reduction in grey hairs.
Irina C.
Age: 55 years old
Length of treatment: 6 months
At first I was skeptical, I thought to myself here is another expensive hair loss product making wild claims, but I must say I was wrong, I started using it recently and saw some results after only 3 weeks, my hair was thicker and healthier and less prone to shedding. I have been using Replenology for 9 months now and my hair continues to improve with time while using this product.
Fareed M.
Age: 43 years old
Length of treatment: 9 months
In the first place, hello, I am Sandra and would like to thank you for your product that am using. I know that it was intended for my husband to use but that simply was unfair, so I took it. I have used many, many products with almost no result. Now, I am using Replenology for 20 days and, despite the short time am seeing nice results that I would like to tell you 5 about: 1. At about one week, hair falling stopped and this was surprising and unexpected for the short time but am especially glad for this; 2. At about 3 weeks of use, I noticed changes in my skin. 3. My skin has a natural glow that it use to have it when I was younger. Now after 3 months, it seems I am regaining hair in all my scalp. I am very, very excited. My friends are asking me about what am I using and I've given them the name of the product. Many many thanks, Sandra
Sandra G.
Age: 64 years old
Length of treatment: 3 months
After only a few days, I am noticing a very positive benefit as follows: Previous my hair was very fine and wispy. I note that after the 3 applications – the hair seems more dense and less "fly-away". Additionally – and I am sure it is wishful thinking – but I feel there is some tiny growth stimulation in the front…. It's been a month now and my wife scrutinized the front "trouble area" and feels there are small hairs sprouting where there used to be none. All very encouraging! PS. No longer need a 2nd coffee in the later afternoon for the gym. Really seen a nice energy upswing. It's 2 months now – I really do very much enjoy the way the product makes each and every hair feel thicker and less wispy. The overall effect is tremendous and I have not had this many compliments on hair in ages. Friends and cousins and people at the gym all comment. Insane….
Howard B.
Age: 52 years old
Length of treatment: 2 months
The Scientific How And Why Behind Our Results-oriented Formula
Replenology's scientists know that there are many reasons why women and men lose their hair. In fact, we identified 21 molecular pathways in the human body that are responsible for both hair loss and hair growth.
If you are interested in learning more about the science in each Replenology formulation, click on the "21 to GROW" brochure image for a deep dive into our scientific, clinically proven, multi-targeted, holistic, and all natural approach.
It makes no sense to us to try and resolve hair loss through just 1, 2 or even 3 causes. That's why Replenology targets all 21; that's why "21 to Grow".
We believe you deserve to know what you are putting in and on your body, and to learn about how and why you can give yourself the best chance to get your hair back.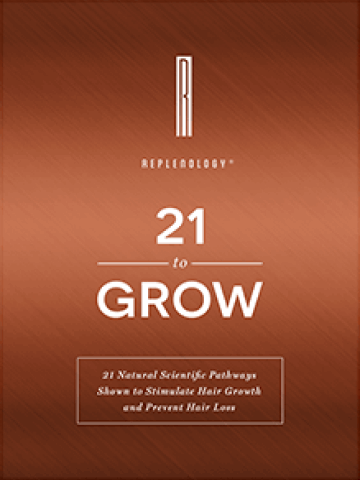 FAQ's
Q: Why should I use Replenology?
A: We conducted third party, triple blind, Replenology vs. Placebo, clinical trials over 24 weeks. When comparing our results with other leading hair loss products Replenology, with our active formula ALRV5XR, outperformed them all by 4x in women and 3x in men. Click here to read about our clinical trial in men. Click here to read about our clinical trial in women. Click here to read the expert opinion commentary on our clinical trials.
Q: Why was Replenology created?
A: One of our co-founders was experiencing Alopecia and could not find a healthy, science based, clean, natural solution that actually worked. Over the course of 10 years and with a lot of extensive research Replenology was formulated by a team of scientists and molecular biologists to the highest standards. After all, if our founder couldn't use the product with success, we could not recommend it for anyone else. After losing approximately 70% of her hair, including eyebrows and eyelashes, she has returned to a full head of hair and her eyebrows and eyelashes have completely regrown. We want her success using Replenology to become your success too
Q: Who can use Replenology?
A: Replenology is suitable for women and men of all ages. We do recommend that you consult with your doctor if you are taking medications on a regular basis and if you are pregnant or breastfeeding. We do not recommend our supplements for use in children.
Q: Is Replenology a drug?
A: Replenology is 100% drug free. We had our products certified drug-free, gluten-free and Non-GMO by the Banned Substances Control Group – the testing facility that develops the protocol for Olympic athletes.
Q: Is Replenology Vegan?
A: Yes, it is certified Vegan! Our products are 100% plant based. They have no marine compounds, no dairy, no soy, no egg, no peanuts, no tree nuts, no wheat, no honey, no added colors, no added flavours, no artificial scents or perfumes.
Q: Is Replenology Gluten-Free?
A: Yes! We are certified Gluten-Free.
Q: When will I see results?
A: Hair growth is a process and patience will pay off. The good news is that Replenology users have reported seeing signs that our product is working in as little as 2 weeks when their hair shedding dramatically lessened and even stopped. Typically, new hair growth can be felt and seen within 4 – 6 months. This will also depend on the length of your hair as short hair may appear more dense in less time. Replenology clinical trial results reported significant new hair growth at 12 weeks, however, these new hairs can be very short and more difficult to notice at first. Please keep in mind that hair typically grows at an average rate of approximately 1⁄2" per month; so, stay committed and you will reap the benefits of Replenology!
Q: Are there any side effects with Replenology?
A: NO negative side effects were reported in our clinical trials or from current users. Replenology users have given anecdotal feedback that they have experienced positive side effects such as calming of skin/scalp irritation, itching and redness, reduction of flaking, an improved feeling of overall wellness, improved energy levels and improvement in skin appearance and nail strength.
Q: Is Replenology FDA approved?
A: FDA approval is specifically for drugs. Replenology is drug-free. Our products are manufactured in the United States and Canada in a cGMP, Kosher, and Halal facility.
Q: Where are Replenology's ingredients sourced?
A: Our botanicals are sourced from around the world and with purity in mind. We use organic ingredients whenever possible, and all our botanicals are standardized so that each capsule contains the exact same formulation strength.
Have any questions?
If you don't find the answer to your questions here, please contact us at info@replenology.com and someone from the Replenology team will respond as soon as possible.