Ingredients & Directions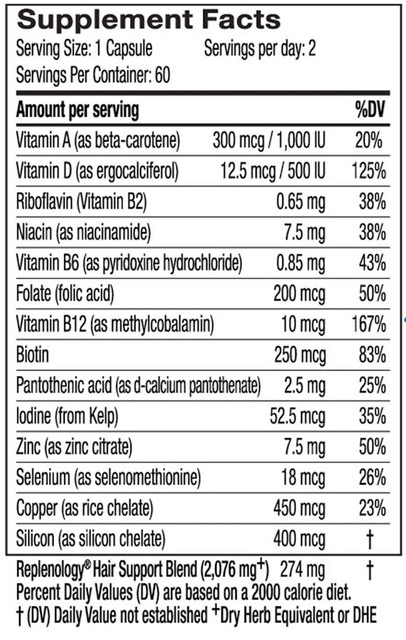 Blend Ingredients:
Blend Ingredients: Grape seed extract seed standardized extract (vitis vinifera) (NLT 95% total proanthocyanidines / NLT 85% oligomeric proanthocyanidins / 5-15% catechin and epicatechin monomers); Moringa (leaf) 4:1 extract (moringa oleifera); Coenzyme Q10; Sophora (root) 12:1 standardized extract (sophora flavescens) (8% alkaloids); Fo-Ti (root) 16:1 standardized extract (polygonum multiflorum); Rosemary (leaf & stem) 10:1 standardized extract (rosmarinus officinalis) (10% carnosic acid); Dong quai (root) 10:1 standardized extract (angelica sinensis) (1% ligustilide); Eclipta (whole plant) 10:1 standardized extract (eclipta prostrata) (5% wedelolactone); Norwegian Kelp (whole plant) (ascophyllum nodosum) (0.5% Iodine); Chinese skullcap (root) 12:1 standardized extract (scutellaria baicalensis) (30% baicalin); Astragalus (root) 12:1 standardized extract (astragalus membranaceus) (4% isoflavones); Pomegranate (fruit) 25:1 standardized extract (punica granatum) (40% ellagic acid; Apple (fruit) 30:1 standardized extract (malus domestica) (50% polyphenols); Reishi (fruiting body) 10:1 standardized extract (ganoderma lucidum) (10% polysaccharides)
Directions: Replenology Twice Daily Dietary Supplement: Adults take 1 serving twice daily of Replenology Hair before meals, or as directed by a health care practitioner. Each serving of Replenology Hair is 1 capsule. Taking the supplement 60 minutes prior to meal with water or a hot drink will ensure optimal nutrient absorption. Each serving of the dietary supplement is best taken 10 to 12 hours apart. The dietary supplement capsule is made from acid resistant vegetable hypromellose, and will normally pass through the stomach and release the nutrients into the small intestine, where the nutrients will be best absorbed. This should avoid any mild stomach upset. In the event of stomach upset take the dietary supplement with increasing amounts of food or after a meal.